Posts Tagged 'DeMar DeRozan'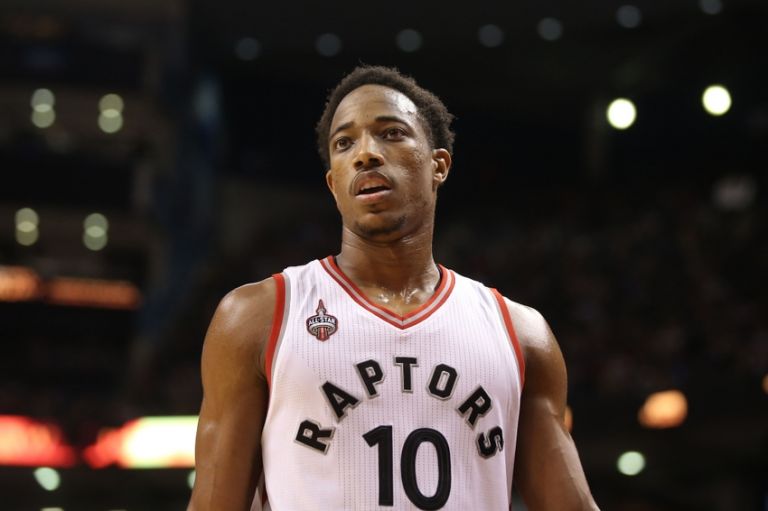 The struggles of DeMar Derozan has been an ongoing playoff storyline, scoring only 17.7 points on .395 TS% through 11 games after a career year in the regular season. The worry for Toronto is this isn't just missing open shots. His unreliable 3 point shot has allowed teams to go under pick and rolls to prevent this driving game and leave him to take inefficient midrange jumpers.
Toronto's price to keep Derozan will likely be a max contract no matter how he plays the rest of these playoffs. The Lakers have been itching to prove they are a marquee free agent destination and the new TV deal will afford many other teams the capspace to make a run at the 2 time all-star in his prime.
There's arguments for and against Toronto paying Derozan:
Keep him
– Like the Raptors Derozan is not a finished product. His .338 3P% and 0.6 3pt makes per game were career highs and with his work ethic he could continue to improve his 3 point shooting to manageable levels in addition to clearing up other weaknesses. His teammate Kyle Lowry is proof players can continue to push their game to new heights after the age Derozan is now.
– Lowry has struggled to stay healthy by the playoffs the last two seasons in addition to a track record in Houston of getting banged up. Derozan taking the defensive pressure he does off Lowry could be important to keeping him healthy going forward.
– With the Nuggets Masai Ujiri resigned Nene to a hefty 5 year deal, then traded him to Washington half a season later. Even if the Raptors don't love Derozan's max contract, signing him and then seeing what trade offers are out there half a season or a year afterwards could be the best way to maximize value out of the situation.
– The regular season matters. Being the 2nd seed is just about the best thing the Raptors have going for them. It gave them home court and a beatable opponent in Indiana in Round 1 and home court against Miami in Round 2 instead of playing Cleveland. If Derozan helps them repeat as a top 2 seed next year this is worth it.
Let him go
– The Raptors offensive success is despite finishing 30th in Assist % on 2 point field goals this year, 9th on 3s. They have been a poor passing team throughout the Lowry and Derozan era. Letting Derozan go may be the best way to transition towards the ball and player movement teams needed to contend.
– The Raptors have young talent that could break out without him. Jonas Valanciunas is showing all the signs of an all-star in the East if you run the offense through him. Terrence Ross could take the next step especially playing SG full time. Norman Powell has shown flashes of brilliance and the Raptors have the 9th and 27th picks to add more talent. Add in DeMarre Carroll and Cory Joseph's minutes at SG and the team would not be left to dry for wing talent.
– Including draft picks but not including Derozan or Biyombo, Toronto has about 73 million on the books next year. That's not enough to sign a max player like Al Horford or Nic Batum but if a player of that level wanted to sign there, they would could be a cap clearing move away like trading Ross or Carroll. All the teams with capspace this summer makes it perfect conditions to move an existing salary if necessary. The best argument against resigning Derozan may be if the Raptors need the money for someone else.