Posts Tagged 'Raptors'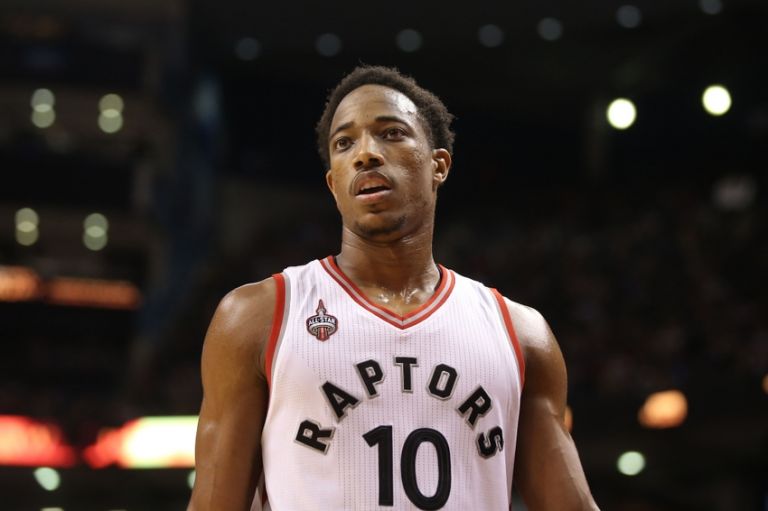 The struggles of DeMar Derozan has been an ongoing playoff storyline, scoring only 17.7 points on .395 TS% through 11 games after a career year in the regular season. The worry for Toronto is this isn't just missing open shots. His unreliable 3 point shot has allowed teams to go under pick and rolls to prevent this driving game and leave him to take inefficient midrange jumpers.
Toronto's price to keep Derozan will likely be a max contract no matter how he plays the rest of these playoffs. The Lakers have been itching to prove they are a marquee free agent destination and the new TV deal will afford many other teams the capspace to make a run at the 2 time all-star in his prime.
There's arguments for and against Toronto paying Derozan:
Keep him
– Like the Raptors Derozan is not a finished product. His .338 3P% and 0.6 3pt makes per game were career highs and with his work ethic he could continue to improve his 3 point shooting to manageable levels in addition to clearing up other weaknesses. His teammate Kyle Lowry is proof players can continue to push their game to new heights after the age Derozan is now.
– Lowry has struggled to stay healthy by the playoffs the last two seasons in addition to a track record in Houston of getting banged up. Derozan taking the defensive pressure he does off Lowry could be important to keeping him healthy going forward.
– With the Nuggets Masai Ujiri resigned Nene to a hefty 5 year deal, then traded him to Washington half a season later. Even if the Raptors don't love Derozan's max contract, signing him and then seeing what trade offers are out there half a season or a year afterwards could be the best way to maximize value out of the situation.
– The regular season matters. Being the 2nd seed is just about the best thing the Raptors have going for them. It gave them home court and a beatable opponent in Indiana in Round 1 and home court against Miami in Round 2 instead of playing Cleveland. If Derozan helps them repeat as a top 2 seed next year this is worth it.
Let him go
– The Raptors offensive success is despite finishing 30th in Assist % on 2 point field goals this year, 9th on 3s. They have been a poor passing team throughout the Lowry and Derozan era. Letting Derozan go may be the best way to transition towards the ball and player movement teams needed to contend.
– The Raptors have young talent that could break out without him. Jonas Valanciunas is showing all the signs of an all-star in the East if you run the offense through him. Terrence Ross could take the next step especially playing SG full time. Norman Powell has shown flashes of brilliance and the Raptors have the 9th and 27th picks to add more talent. Add in DeMarre Carroll and Cory Joseph's minutes at SG and the team would not be left to dry for wing talent.
– Including draft picks but not including Derozan or Biyombo, Toronto has about 73 million on the books next year. That's not enough to sign a max player like Al Horford or Nic Batum but if a player of that level wanted to sign there, they would could be a cap clearing move away like trading Ross or Carroll. All the teams with capspace this summer makes it perfect conditions to move an existing salary if necessary. The best argument against resigning Derozan may be if the Raptors need the money for someone else.
Although he hasn't gotten a ton of burn this season, a prospect my talent grading methodology likes a surprising amount is PF Quincy Acy.
After a strong career at Baylor, Quincy fell to the 2nd round due to his his size at just under 6'8. However, while size is relevant it's only a piece of the puzzle. What matters is how much a player physically impacts the game. Quincy makes up for his size with a long 7'3 wingspan, in addition outstanding athleticism, with an elite first step and the ability to play above the rim, so much to lead the NCAA in dunks last year. He's also a respectable ball-handler for a big. This combination of talents allows him to make plays slashing to the basket off the dribble. A concern is Quincy's rebounding has been unspectacular his rookie season, but only in limited minutes. With his athleticism and solid rebounding history at Baylor, it's too early to say he lacks rebounding talent. Defensively his size makes him a question mark, but his long wingspan hurts him in the area.
Adding to this, Quincy has an impressive perimeter jumpshot for a 4, with range to just inside the 3 point line. While not a post player, his shooting when added to with excellent touch around the basket, Quincy ranks as a decent skill talent for a 4.
Finally, Quincy's feel for the game and instinctual base is good for a power forward, showing smoothness and control in his offensive moves.
Here's a clip of Quincy's impressive game against the Bucks
At :10 he shows respectable speed, instincts and finishing driving to the rim off a pass and scoring
At :19 he shows a strong first step blowing by a defender and drawing a foul
At :42 he makes a strong athletic play driving past the defense and dunking above the rim
At 1:17 he makes his first NBA 3 – and importantly, as opposed to non-shooting big men who are forced to heave a 3 to beat the shotclock when they make them, Acy's is with 11 seconds left on the shotclock which shows confidence in his range
At 1:50, he creates a jumpshot off the dribble, both showing perimeter/skill impact ability and showing feel
At 1:57, he adjusts when driving to the rim to account for a defender, a reasonable sign of feel and instincts
Here is a clip from a D League game Acy had recently:
At 0:12 is a very impressive play starting from the mid-post, where he shows both the feel for the game to adjust his shot and his shooting touch
At 0:25 he impressively runs a fastbreak, crossing over a defender and then finding a teammate with the pass. This play shows feel for the game and ballhandling skills, which in the halfcourt helps his slashing upside
At 1:30 he shows an impressive first step and ballhandling ability to get past a defender to the rim, then the feel for the game to be in control driving enough to see a teammate
Another D League game:
At 18:25, he shows his first step and recognition of the defense by driving to the rim
At 44:47 he drives to the rim in a play showing his athleticism and feel for the game
At 45:20, he scores a midrange jumpshot
At 50:15, he shows impressive athleticism finishing above the basket on a putback
At 1:36:51 he dunks off a pass
At 1:39:30 he makes an impressive drive off the dribble, adjusting around the rim – missing the finish, but getting there shows athletic and feel talent
At 2:11:57 he makes a fantastic spin drive to the basket, showing first step, vertical explosiveness and feel
At 2:18:45 he dunks off a pass
At 2:19:15 he uses his first step to drive to the basket, but misses an easy layup
At 2:20:20 he crosses over an opponent and gets to the finish, an impressive more for a big – but misses the finish
My grades for Quincy Acy are:
Physical impact talent: 6 – Acy may not be big, but he makes up for it as a slasher with a great first step, intriguing ballhandling for a big and the explosiveness to play above the rim. How well he finishes in the NBA among traffic will impact whether he can be a dynamic slasher, but for now I will give him an above average grade
Skill impact talent: 7 – Due to his perimeter jumpshot I'm impressed by Acy's skill game for a 4. With his size a post game is unlikely, but his ballhandling could help him not just hit shots but create them off the dribble.
Feel for the Game: 7 – Acy can look fairly smooth offensively, able to adjust off the dribble and recognize where he is in comparison to teammates. His feel for the game looks to be above average.
Total grade: 20 (Blue Chip starter talent grade)
For me a grade of 20 is a starting talent in the NBA. Acy is not spectacular in any area, but the athletic tools to attack the basket off the dribble combined with a perimeter jumpshot, is a rare left hook-right hook combination for PFs in the NBA, especially if for a fluid and feel for the game friendly player. Acy may be able to combo as a small forward in the NBA as well, due to his respectable shooting and ballhandling. The career path for Acy to follow if successful would be David Lee, Carlos Boozer, draft steals for a nice all around combination of athleticism, perimeter skills and feel. Thaddeus Young is also a respectable comparison, a player more athletic than Lee are Boozer and with a similar feel for the game, but less inside and outside skills.
Comparing Acy to the Raptors Jonas Valanciunas is an interesting debate. The opposite of Acy, Valanciunas was the benefactor of the NBA's height obsession as a 7 foot long C. However Valanciunas lacks Acy's dynamic athleticism and has a subpar/mechanical feel for the game. While in regards to skill, Valanciunas' height and touch gives him more post potential, Acy is a more developed perimeter shooter for his position. Under my methodology Acy handily grades as the most talented rookie big on the Raptors.